CAPPON LEAN VICTORY of Vittoria Traversa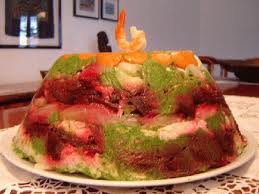 Cakes sailor: rub with a clove of garlic and place in a large plate to get soaked with vinegar, water and salt. (about 6/8 hours, turning occasionally.)
Vegetables: floury potatoes, beetroot, cauliflower, green beans and / or zucchini, carrots, salsify, artichokes.
Clean and / or boil to the tooth all the vegetables separately, slice separately and season with olive oil, salt and vinegar or lemon.

Fish: The fish is the best hen or capon, all the fish are fine white meat, lean and firm type bass.
Well even perch fillets or grouper (even frozen); it's quicker and there is no waste. Clean, flake if whole fish.

Prepare a court-bouillon 20 minutes boiling water, white wine, celery, carrot, onion, thyme, parsley and salt.
Boil the fish without stracuocerlo, drain (keep the broth to cook shellfish and muscles) and, if whole fish, sfilettarlo removing the plugs. Drizzle with olive oil, salt and lemon without breaking too.

Green Sauce: Make the sauce by whisking green parsley, salted capers, anchovy fillets in oil, breadcrumbs soaked in vinegar, red boiled egg, oil does too.

It must be spread with a spatula or knife, without dripping or making much effort. If it is too thick add a bit 'of water very cold, if it is too runny add bread crumbs.

Sticks, 1-to-head: 1 Spiedone long wooden with boiled prawn (fish soup) and the whole shell, porcini mushroom 1 small whole in olive oil, 1 large green olive type Ascoli, 1 thick slice of boiled carrot (the if no tooth is broken!)

Other: anchovy fillets or slices of tuna bottarga or musciamme to put over the layer of biscuits into small pieces or slices (not too much, very salty). Muscles ½ boiled in their shell (in the recipe elegant are the oysters!)

Hard-boiled eggs cut in a nutshell x decorate. Other mushrooms, olives, anchovy fillets, peeled shrimp to decorate (optional). In elegant Cappon Magro also puts a lobster boiled, detached heads and paws, tail, shelled and sliced ​​and recomposed with the head and paws on top of everything!!

Assembly: Take a large plate, abundant x the dose that you want to do because the remains of the space around. You have to assemble biscuits, vegetables and fish in layers in the dish so as to form a dome at the base is oval or round.

Questions all ingredients seasoned before at hand; working with your hands to compact each layer so well: wring the biscuits sailor and do a base layer of well compacted. put on anchovy fillets, drained (or musciamme or roe) into small pieces to layer in this order potatoes, beetroot, cauliflower, zucchini, boiled fish, beans, carrots, artichokes, boiled fish, salsify, artichokes, boiled fish. cover the dome of green sauce; not too much, just enough to cover the layers. put the sticks in the center (on the sides fall down and break all) put around the muscles and small leaves of parsley ½ decorate the surface of the dome with a nutshell of hard-boiled eggs, shrimp, olives, anchovies, slices of carrot, mushrooms, muscles peeled, cloves artichoke ....... Serve with more sauce in gravy boat green.

Tips: Do not dressed too well and drain all if you are not a disastrous Lake seasoning in the pot at the end of the work. Cook until al dente things (preferably the night before) and allow to cool thoroughly before seasoning them, to not always have water percolating. You can season the vegetables with a little salsa verde 'diluted, but it gets very heavy .

This dish is made for New Year or for the 'Epiphany. Capacity indispensable for the birthday party of Francesca.



MEAT WITH WINE - Piera Banchero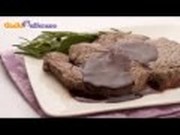 In a saucepan, put the crock in layers, slices of fat and lean meat (for cutting I buy what we call in Genoa "Matamá") slices of butter, grated cheese, a little salt and garlic slices. Cover with red wine and cook for about two hours. Serve with mashed potatoes.



CARRÈ PIG TO MILK - Vittoria Traversa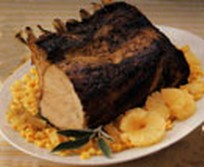 For 4/6 people

Take a piece of pork loin (chops one) without bone and put to fry in a pan with a thick bottom (excellent cast iron) with a little oil.

When is colorful add 1 bay leaf, a little rosemary, 2 white onions, cut into wedges and 2 or 3 carrots into small pieces. Season with salt. Sauté everything well without burning, then sprinkle with whole milk up to ½ height of the piece of roast.

Lower the heat and Cook covered turning the piece occasionally. The milk is consumed slowly and makes a creamy light brown flaky; detach from the walls of the saucepan, hand in hand that is formed.

If you were too dry, add a little 'milk. When puncturing the piece of meat comes out a clear liquid and no longer pink is cooked. If you no longer leaves the cooking liquid is too high. Remove the piece from the pan and keep warm and covered. Pick up the sauce from the walls and pull the right baking background with wooden scoop. Blend everything with the blender (remove the flavors).

Correct the salt if necessary. Must be a velvety cream and filling, not soupy. If it is too runny let it tighten over an open fire. If it is dry or little, add milk and cook for a few minutes until it thickens. Slice the roast, not too thin, covered with a few tablespoons of the sauce and serve with more sauce in gravy boat.

Contours below: baked potatoes, peas / carrots in butter, mashed potatoes, apple sauce, buttered chestnuts, artichokes padellati.


RABBIT LIGURIAN - Federico Olimpo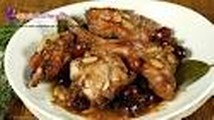 1 rabbit,
1 carrot,
1 onion,
1 leg of celery,
50 g black olives,
20 g pine nuts,
white wine, salt, pepper, thyme

Cut into 8-9 pieces a rabbit. In a saucepan, sauté mirepoix little. Add the floured rabbit, brown Sprinkle with white wine. Add black olives, pine nuts, thyme Bake for about 50 minutes 'dipping with a little' of broth and salt


TOP OF GRANDMA Ibidi GENOVESE - Vittoria Traversa


For a top (or veal pocket: cut of meat layered from the belly of the animal) 8 eggs:
8 eggs,
500 gr between brains, veins, veal,
100g peas fine (even frozen),
2 spring onions,
50 g parmesan cheese,
exv oil,
salt, pepper, marjoram, celery, carrot, onion to the broth

Cut the veal into cubes, strip brains and veins and cut into small pieces. Sauté the meat in a pan with olive oil and sliced ​​onions purposes. Chop all with the crescent, not too fine.

Add the peas blanched in water. Beat the eggs with the Parmesan cheese, salt, pepper, a little marjoram, chopped fine. Add the minced meat and fill the pocket of meat. Leave a little 'empty space if you want that you do not rip the top with the expansion of the filling during the boil, leave the "pocket" of the top only half full ... not remember if it breaks!.

Sew the opening, wrap the top in a white cloth, do not tie too tight and put to cook in a large saucepan, covered with water and the taste of the broth. Season with salt and bring to a boil. Boil at least 2 hours on low heat.

Turn off the heat and when it is not too hot, take it out and put it to cool under a weight. Remove the cloth until it is completely cold and firm.

Typical dish of Easter and Epiphany



STUFFED CHICKEN LEGS - Piera Banchero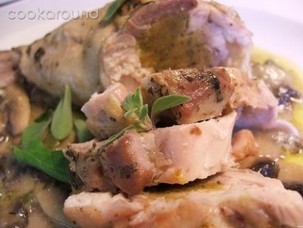 Bone the thighs.
Prepare a stuffing with sausage, mortadella, ricotta cheese, egg, Parmesan cheese, salt, pepper and lemon zest (untreated) grated.
Fill the legs and sew them. Brown them well in butter (or oil) from all sides, sprinkle with plenty of lemon juice, evaporated, add little by little of the broth until cooked.
(http://www.cookaround.com/le-vostre-ricette/secondi-piatti/cosce-di-pollo-ripiene)



Skewers of fish: Fried, au gratin, or grilled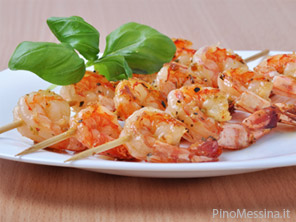 The fish skewers are a great second course suitable for all seasons; light and tasty skewers are very easy to prepare and lend themselves to different types of cooking.

Generally, the basic ingredients used are very similar (depending on your preferences, we may use only shellfish or other fish with a good texture), and the difference lies in the ingredients for cooking according to the selected recipe.


To prepare the fish skewers for four people the basic ingredients are:
- 250 grams of squid
- 200 grams of squid
- 250 grams of squid
- 1 lemon
- 1 clove of garlic
- 4 tablespoons of breadcrumbs
- 2 tablespoons of parsley
- 1/2 cup white wine
- 1/2 cup of extra virgin olive oil
- Salt and pepper q.b.

The first critical step is to wash the fish, clean it and dry it; then put in a bowl large chopped parsley and garlic, add the bread crumbs, salt and pepper.

Now slip on wooden skewers fish, before passing it in bread crumbs to spice. We then heat the oil in a frying pan and put to fry the skewers, making sure to turn them on both sides. Bathe the whole with a glass of white wine and cook for two minutes; At this point sprinkle the skewers with the remaining bread crumbs and let brown for two minutes. Withdraw them from the pan, bagniamoli with the juice of a lemon and a drizzle of olive oil and let us serve while still hot.

An alternative to the skewers in a pan are the skewers of fish baked potatoe, these are the ingredients:
- scallops
- shrimp
- Monkfish
- cuttlefish
- breadcrumbs
- Doggy
- parsley
- Oil

We clean and wash the cuttlefish, shrimp glide and cut the monkfish into cubes not too small. Slip all over the skewers, alternating the varieties of fish. At this point we prepare the gratin: tritiamo the garlic finely and mix it with the parsley breadcrumbs to which we added a good handful of cheese.
Then we roll the skewers in this "breading" and poniamoli on a baking sheet lined with parchment paper, once laid down, cospargiamoli with the gratin and advanced spruzziamoli with a few drops of water (to avoid drying out during cooking and then become too dry) and a drizzle of olive oil. Then bake at 180 degrees until golden brown.

Obviously the choice of the fish with which to proceed to the preparation of the skewer varies depending on the tastes and availability; the skewers can also be garnished with pieces of bell pepper, tomato or zucchini (in each case of the vegetables that they will not cover then the flavor of the fish).

The skewers are also ideal to be cooked on the grill, maybe at a good seafood barbecue.

All recipes are light, fast and easy to prepare ... we just have to decide how to enjoy our seafood skewers!
http://www.pinomessina.it/consigli-cucina/



Frittata "whitebait" - Nadia Ambrogio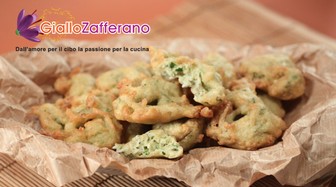 300 grams of fresh whitebait,
2 whole eggs,
parsley, marjoram, 1 tablespoon of Parmesan cheese (optional), extra virgin olive oil salt and pepper

Clean the whitebait from any impurities such as algae etc., Should not be rinsed in fresh water, but I do. In a bowl beat the eggs with the chopped herbs, salt, pepper and any cheese.

Combine the fish and mix gently. Heat a non-stick pan two tablespoons of extra virgin olive oil, pour the mixture whitebait, let it forms a golden crust and then turn on the other side of the omelet and finish cooking.

The outside should be golden and the inside soft.
Whitebait, "whitebait" in dialect, are juvenile fish blue anchovies and sardines, whose fishery is regulated by very strict rules, it is available commercially only in the early months of the year.
http://ricette.giallozafferano.it/Frittelle-di-bianchetti.html



FRIED GRANDFATHER'S FRANCO - Vittoria Traversa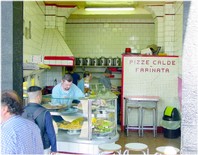 Ingredients for 6 persons: 12 lamb chops,
6 artichokes,
2 large porcini mushrooms,
12 zucchini flowers,
4 large zucchini,
2 lemons,
flour, water (preferably bottled carbonated)
1 egg, bread crumbs, salt, peanut oil for frying

Zucchini flowers: Make a batter of flour and water (preferably mineral sparkling water) very cold and a pinch of salt. Allow to rest for at least an hour covered. Wash the zucchini or squash blossoms, dry thoroughly, wrap them in batter and fry.
Zucchini: wash them, slice them lengthwise not too thick. Flour them and fry them.
Mushrooms: clean slice breadcrumbs with egg and breadcrumbs and fry
Artichokes: clean them well from tough leaves, slice them, flour them and fry them

Lamb: beat the chops and thoroughly clean the bone handle. Impanarle with egg and breadcrumbs and fry on medium heat to give it time to cook.

While frying keep everything warm in the oven and season with salt alone ready to serve with lemon wedges. 12


SOUP TO GENOA (minestrone genuense) - Vittoria Traversa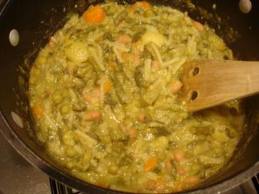 Soup recipes there are many, each family has its own. The doses to the eye do better to put less water and then add it later because it does not have to be sloppy, but nice dense. Tradition says that the spoon planted inside must remain standing!!

ingredients:
onion,
little marjoram,
parsley and dried mushrooms chopped fine,
one or two cloves of garlic to be removed before it disfino,
a dried tomatoes into small pieces or two fresh diced (preferably peeled)
carrots and leek slices,
potatoes, celery,
zucchini,
pumpkin,
green beans into small pieces,
fresh borlotti beans (or soaked dried and prebolliti)
peas (even frozen),
seasonal fresh fava beans,

Swiss chard and cabbage small (little) into strips,
a piece of parmesan crust well scraped and washed,
water (I do not use dice, but you can add one if you want),
exv oil, salt and pepper,

1 tablespoon or two of pesto (basil, garlic, parmesan, pecorino, pine nuts, oil exv)
grated Parmesan cheese

The classic recipe, sautéed with spices and mushrooms in oil exv, I do not do it though, because it is lighter.

I put all the vegetables and herbs in cold water with a little oil, a little salo and port to a boil. At this point, add the parmesan crust and I boil for a long time (at least 2 hours) so that the potatoes disfino.

Every once in a while I crush 'the vegetables with the backs of the spoon. After cooking a soup should remain fairly firm.

Only then add the olive oil and pesto which must not cook. I correct salt and condisco even with little pepper.

The parmesan crust that will become soft should be cut into small pieces, one for each diner, not to quarrel on the table (it's delicious).
In each table, then add olive oil and parmesan cheese to taste. If you want the dough you have to leave a little 'more soupy and throw it in the last fifteen minutes of cooking.
The formats are suitable thimbles scratched or better "briquettes" which are like broken spaghetti or short the "scruccuzzun", balls of dough lasts about 3 mm diameter which hold fine cooking and also in the rest minestrone for hours without becoming soft. The soup is best warm and summer cool (not ice cream) is very much appreciated.



Octopus ROSEMARY - Piera Banchero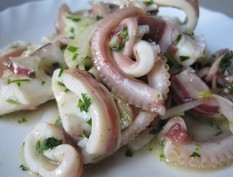 Clean a kg. octopus,
wash them and dry them out, put them in the pot to pressionecon 3 garlic cloves,
a nice sprig of rosemary,
olive oil, salt and half a cup of water.
Cook for about a quarter of an hour.


GRAPE CHICKEN - Federico Olimpo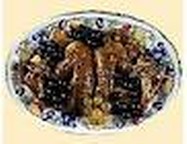 1 chicken,
100g celery,
100g onion,
50g oil,
30g rosemary,
100g grapes,
50g white wine.

Wash the grapes and remove the peel and seed at each grape. Cut the chicken into 8 parts, then brown in the oven in a roasting pan with olive oil and a base of onions and celery and coarsely chopped rosemary. Changing the pan and redo a fund of roughly chopped celery and onion and put the chicken with grapes above put in the oven blend of white wine and get cooking.


QUAIL IN MUSCAT - Federico Olimpo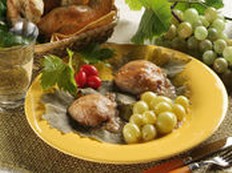 12 quail,
100 g butter,
1 glass of Moscato,
700 g of white grapes

Clean the quail and lay. In a saucepan, melt the butter and brown quail on both sides and cook for about 10 mm. Add the wine, let it evaporate and salt. Remove the quail from the pan and keep them warm. Clean the grapes sbucciandoli and removing the seeds. Pass into the cooking quail. When it is slightly reduced, add the quails cook another 10 mm. Serve hot, with the accompaniment of mashed potatoes or polenta croutons