Ivo Giuseppe Rapetta

Who is Ivo Giuseppe Rapetta? Ivo is a "young man", because this feels, 65 years. He was born in 1949,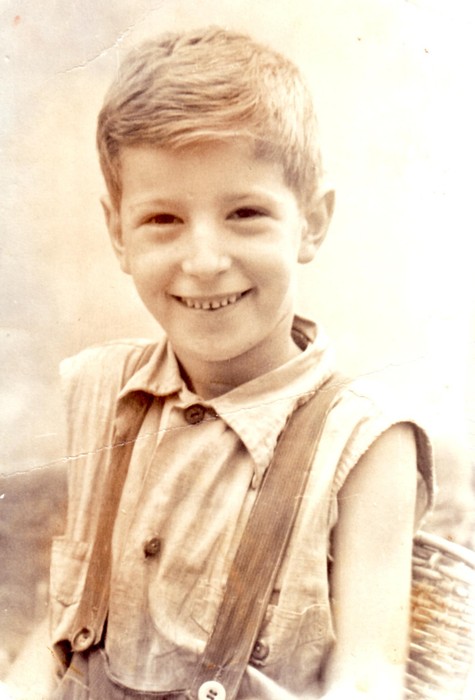 a few years after the war, But he was spared the horrors of that tragedy.

Just finished the elementary school his father Gino enrolled him in the school dell'ENEM (National Agency for the financial year sailor) in order to get him to learn a trade, which in the continuation of life, would allow him to support himself and his family, if appropriate. Since the year 1961 year 1964 he attended the school of Paolo Boselli Course Ugo Bassi, on the heights of the district of Genoa Principe.

Of that school, now I continue the story in the first person, I have a good memory, as it provided me with the theoretical and practical tools to operate in the field of motor-sailor.

There he learned in addition to matters that were studied in public schools (middle schools merged did not exist yet), equally interesting and useful materials such as Thermodynamics, Metrology, Mechanical (manual adjustment and operation on a lathe), Distillation of Petroleum and (This is me as a child, maybe 6 or 7 years) italian American method, Metallurgy , Blast and seamanship; ie knots sailor, as well as signaling by flags, as well as the vogue in a rowing boat and boat motor behavior in the water pool of the port of Genoa, at the pier in front of the Duke of Abruzzi ship-repairing yard called O.A.R.N.

(Workshop equipment and ship repair). I still remember the laughter of the sailors that looked out to the sides of ships to observe our efforts with oars too big for us to comment on fun exercises vogue by boys of 11-12 years.
I graduated with my school final exam is that one of the committee came to Rome and finally got my diploma. I went immediately at the Workshop Passalacqua via Crowned 2 workshop that operated on-site and on board several ships then docked at the quays of the port of Genoa.
I could not be taken as the minimum age to become an apprentice was 15 years old and I was only 14, so HOLIDAY! sabbatical ...! I spent the whole autumn and the following winter at my grandparents at their home in Casalecchio Vetto D'Enza, and it was a wonderful time.
I can say with certainty now that I've had in life satisfaction and grits but I always passed for almost a year living among nature, cows, foxes, wild bees (which sottraevamo, I my grandfather Joseph, the honey produced ) and fishing with your hands or with a large hammer. In short, I learned more in a year together with my grandparents who lives in the Municipal Police. Big and beautiful people my grandparents and those Emilian that my grandmother on his father's name Esterina. May God rest his soul!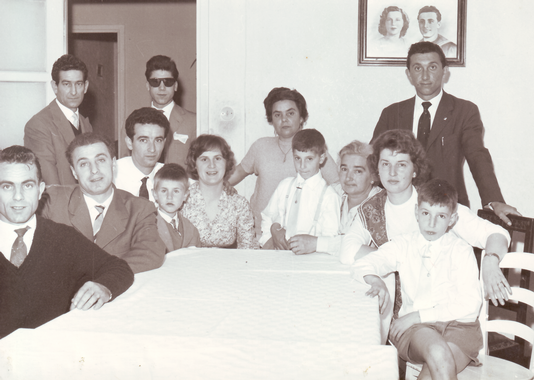 From that moment forward end of the game! There was heading toward adulthood, he went to work in part to help the family in advance and partly for personal satisfactions such as my first motorcycle: Moto Guzzi Stornello 160 cc. Already the bike ... in those days we were all tied to the bus or to the tramways for our trips with the discomfort that we all know, but with the bike was completely different. There were girls who were living far enough away that they can not be reached. From that Me (first from right) ahead my mother surrended my parents, uncles, friends... moment began my gradual detachment from the family but it was an inevitable thing.
The bike, my bike was giving me a heady feeling of freedom that combined with my youth 18 years old, made feel master of my life and made everything, in the end we did not take much to us kids of the 49. Even today I feel these sensations although not as intense, despite the many bikes I've had, including Morini, Guzzi, BMW K1000, BMW K 1100LT, BMW 1150 RT, until the current Honda 700 Deauville with transmission Cardano, which I think perhaps the best bike I've ever had taking into account the reliability of the engine's electronic circuitry, weight, shaft drive and so on. I also of course the machine plus a Suzuki Wagon but I use very little because I'm a good rider in prison and too tied to the sloths idiots that hinder the streets. Motorcycles and therefore to the end ...